The
Eyes x 9 palettes
features a wave of coordinated hues, offering countless combinations.
Four new
Eyes x 9 palettes
join old favorites, featuring rich smoky browns, frosty metallics, red-hot shades and lush tropical-inspired hues.
Available in-store & online Mar. 2 - April 13, 2017
EYE SHADOW X 9
$32.00
It comes in a pocket-sized compacts for easy portability. It has a clear, hard plastic top that also has a magnetic closure.
The eyeshadow pans are the size of a U.S 10¢ coin, about 0.02 oz each.
A well edited palette of red-toned hues. Textures ranges from matte to satin to veluxe pearl.
This palette has beautiful sunset colors which I would love to try and create on my eyes.
A beautiful all over the lid shadow is
vanilla - ivory with reflects (velvet),
OR even for a brow bone highlight.
A nice subtle crease shadow,
for your pleasure - muted neutral pink (matte)
.
For a transition shade,
get closer - muted yellow orange (satin)
is perfect for those "sunset eyes".
If you're bold enough use
carnal charm - bright yellow red (matte)
all over the lid OR use it as liner.
I would use
bijou - bright blue pink (matte)
to line my lower lashes or an inner corner highlight.
This ones a hard shade for me,
fuchsia fury - mid-tone red pink (satin)
but I would try using this as a liner or layer it with one of the darker shadows below.
The next three shadows I would use to create a beautiful smokey eye.
frock talk

- blackened cherry (veluxe pearl)
shadowy lady - blackened plum (matte)
lover in me

- deep royal blue (satin)
Tropical Cool Times Nine
$32.00
This would be the palette I would bring with me to my beach vacation. A palette full of vibrant tropical-inspired hues. Textures range from matte to satin to veluxe pearl.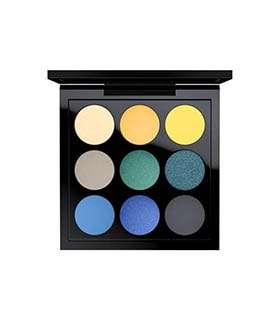 A great all over the lid shade is

fresh blade

- pale frosted yellow (veluxe pearl).
Use it as a liner or on the crease,

bright-sided

- canary yellow (satin).
A great inner corner shadow is

lemon rush

- bright yellow lime green (matte).
A great base/ transition shade for a vibrant smokey eye look is

lady grey

- soft muted grey-green (satin).
Another beautiful all over the lid shade,

neoprene green

- kelly green with pearl (veluxe pearl).
Add some sparkle to that green eye look with

she's a model

- blackened teal with pearl (lustre).
Apply this on the lower lash line,

liquid sky

- cerulean blue (matte)

to complement the green or yellow eyeshadow.
Use this as a nice liner,

blue envy

- frosty royal blue (veluxe pearl)

and wing it out for fun!
Smoke out that eye look and deepen the colors with

grey horizon

- deep blue grey (matte).
Solar Glow Times Nine
$32.00
A palette featuring frosty metallic hues. Textures range from veluxe pearl to lustre to frost.
This palette is 50/50 for me. I can see myself using half of the shadows in this palette, and after swatching these, some shadows will be a tricky one to apply.
I usually don't use an eyeshadow primer for my arm swatches but for this palette to get the frosty shades to show, an eyeshadow primer had to be used.

moon rock

- frost bright white (veluxe pearl)

is gorgeous for an inner corner highlight.

I had a hard time swatching

copper aura

- pastel coral (lustre).

Use your finger to apply it and with a patting motion, this would look nice as that center lid highlight.

I love

blackberry

- muted burgundy-plum brown (matte)!

If used as the base, it will complement the shimmery shadows really well.

sugared

- light frosty pink (lustre)

is another shimmery shadow that was tricky to apply.

Use your finger and with a patting motion.

For a beautiful transition shade, use

quarry

- soft muted plum-brown (matte).

One of my favorite shades in this palette is

metalmauve

- soft lilac (frost).

I'd use this as an all-over shadow on the lid.

Another nice all-over-the-lid shadow is

cosmic

- taupe (frost).

soot

- cool grey (velvet)

is a great shadow to smoke out your eye look and as a liner.

lunar cycle

- frosty muted teal (frost)

is a beautiful cool toned shadow, I'd use on my lower lash line to help open up the eyes.

Semi-Sweet Times Nine $32.00

A palette of smoky brown hues, all in a rich matte texture.

My favorite of the four! This is a great palette with all matte shadows that you can easily use by itself and also use with other palettes. If you're building you're "ultimate eyeshadow palette", these shadows are a must-have as these are all great core shadows to have.
For a nice base is

drawing a blanc - creamy beige. bamboo - light beige with pink,

can be used as an all over the lid base shadow as well or on the crease.

For a smokey eye look,

outre

-mustardy brown

is a nice transition shade to use.

pink sienna - cool neutral pink

is another great all-ove-the-lid or crease shadow.

mocha minded - chocolate brown

is a nice shade for a daytime smokey look.

everyone's darling - warm wine burgundy

can be applied in the outer corner. And for a darker smokey eye look, add any of the last three shadows.

All three can also be used as a liner as well.

persuade - mid-tone cool grey brown dance in the dark - dark brown carbon - intense black


Overall these are great additional palettes to the

Eyes on M•A•C collection

.

The packaging on these are very sturdy, so it's a nice palette to travel with or for the makeup bag. It would be nice to have a mirror instead of the clear plastic but the shadows are well worth the price of these. The pans are big enough to get an eye makeup brush there, and I won't be surprise if I hit pan on one or a few shadows since most are really easy to wear by itself or with the other shadows within it's palette.



*Products and some images used on this post were sent
to FiveTwo Beauty. All opinions stated on this post are 100% mine. Please see the Disclosure Policy tab for full information.